Here's where it started
I was born and raised in a family of creative parents. They both had strong entrepreneurial spirits. My mother did not work outside of our home. She stayed home and championed through 16 pregnancies; 2 sets of twins included. She sewed, baked, cooked and crafted. Too, she sang with us and to us. She helped in the family businesses as well. My father was self-employed. His business ventures included a bakery, a grocery store, a take-out-restaurant and bar, and a construction company with his brother. He also loved music, singing, and dancing. And he dressed like he was preparing for a photoshoot in GQ magazine. My personality reflects both of my parents. And so, my creativeness is inescapable.
I have a vivid imagination that never seems to go silent. It's from that place I learn and grow.
The idea that we learn to read; then, read to learn took deep root in my life at an early age. Much of what I do is born of my desire-to-know and learn. At right: The bookshelf used to be a mass of multicoloured spines. Since books excite me, the abundance of hues and bold-type titles acted as a stimulant. At bedtime, they continually drew my attention and urged me to explore their contents. To suppress their insistent calls, I took a stack of newsprint paper, tape, scissors and two metallic markers and covered them all.
Passion For Creativity and the arts
Books and music, people and poetry, theatre and movies, voices, singing, and writing stir my heart.
I'm passionate about what I do and committed to the creative process. In plain words, I'll work long hours. Sometimes for little pay because I want to. Creating makes me happy. It energizes me. At times, ideas jump into my head the moment I'm ready for bed.
Then, I get excited, lose interest in sleep, and begin calculating how to get those things done. I never think they wouldn't work. The problem is, sometimes they don't. Still, I continually give it all I've got. Failing forward has been instrumental in my creative development.
I try to imagine myself living a non-creative lifestyle. But I never get past the initial thought. Sometimes though, the torrent of creativity that envelops me can feel like a burden. That stems directly from believing I haven't done or given enough of my creativity.
Blogging - a healing element in my life
This blog enabled me to give in a way I couldn't before it existed. The prospect of answering questions and providing creative solutions softens a mental load. As a result, the notion of creative hoarding that lives in my head has quieted - in part. When I publish a post, my deepest desire is to help. Your visit provides that opportunity. For that - Thank you.
I don't post as frequently as I'd like, and part of it is because the content I would like to share demands mega preparation. So, to keep you from waiting, I post projects I could complete on time.
Creative spaces size and function
I prefer to work in large spaces for a couple of reasons: I can make a mess; close the door, and return at my convenience. Too, I feel trapped in small places of any type.
One of the main reasons I love larger spaces is because I have an ongoing need to learn how to create whatever comes to my mind. Consequently, there's always an inflow of crafting materials for to-do projects. The thing is; I don't always do as promptly as planned.
That leaves a lot of spaces covered with supplies. It drives me nuts because it brings about a feeling of not working fast enough. If it does that to me, well; God help my family.
In spite of that, living and working through the creative process is important to me. So, over the years, I've learned to appreciate my work-space, regardless of size.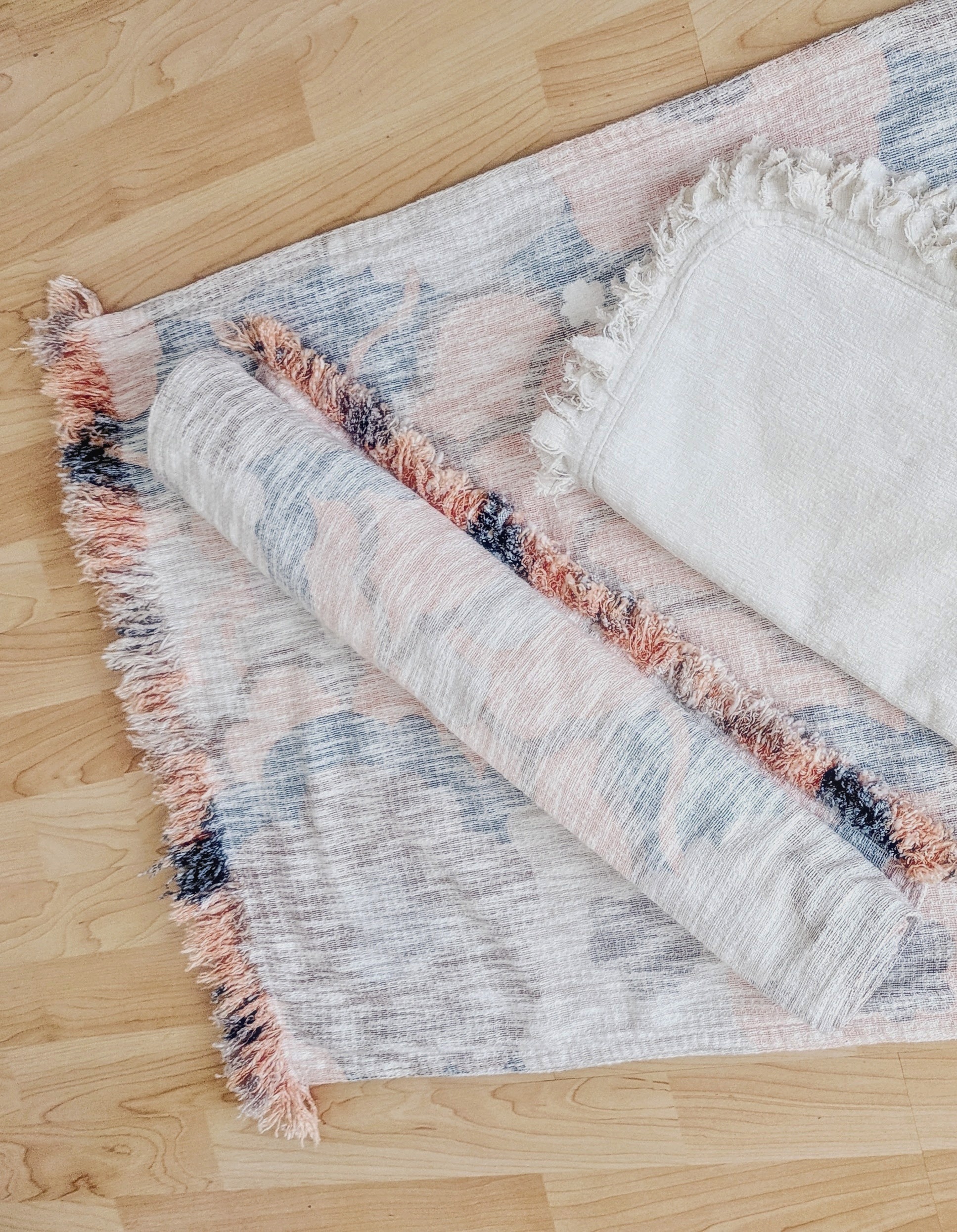 Make Easy DIY Fabric Floor Mats
The floor mats at right used to be my mom's old curtains. Instead of tossing them, she donated them to me, knowing fully well I'd make good use of it. I found the colours on right side of the fabric a bit strong. So, I used the wrong side. All it took was a bit of sewing, fringing & washing -using the same construction principle as More Pretty Muslin Dish Towels (Sew Pretty DIY Projects) - here.
Centered on sewing machines
Much of my life revolves around the sewing machines. And I couldn't imagine living without them.
I learned to sew by trial and error. My interest sparked in early childhood when I saw a generation of people around me who sewed their clothes and dressed flawlessly. My passion kindled further when I watched old Hollywood movies in black and white, and later in technicolor. I loved the stories. But images of the actors' wardrobe never left my mind.
In my aggressive youth, I sewed a lot of clothing for myself. Today, most of my sewing is for gifting others. That makes me I'm happy.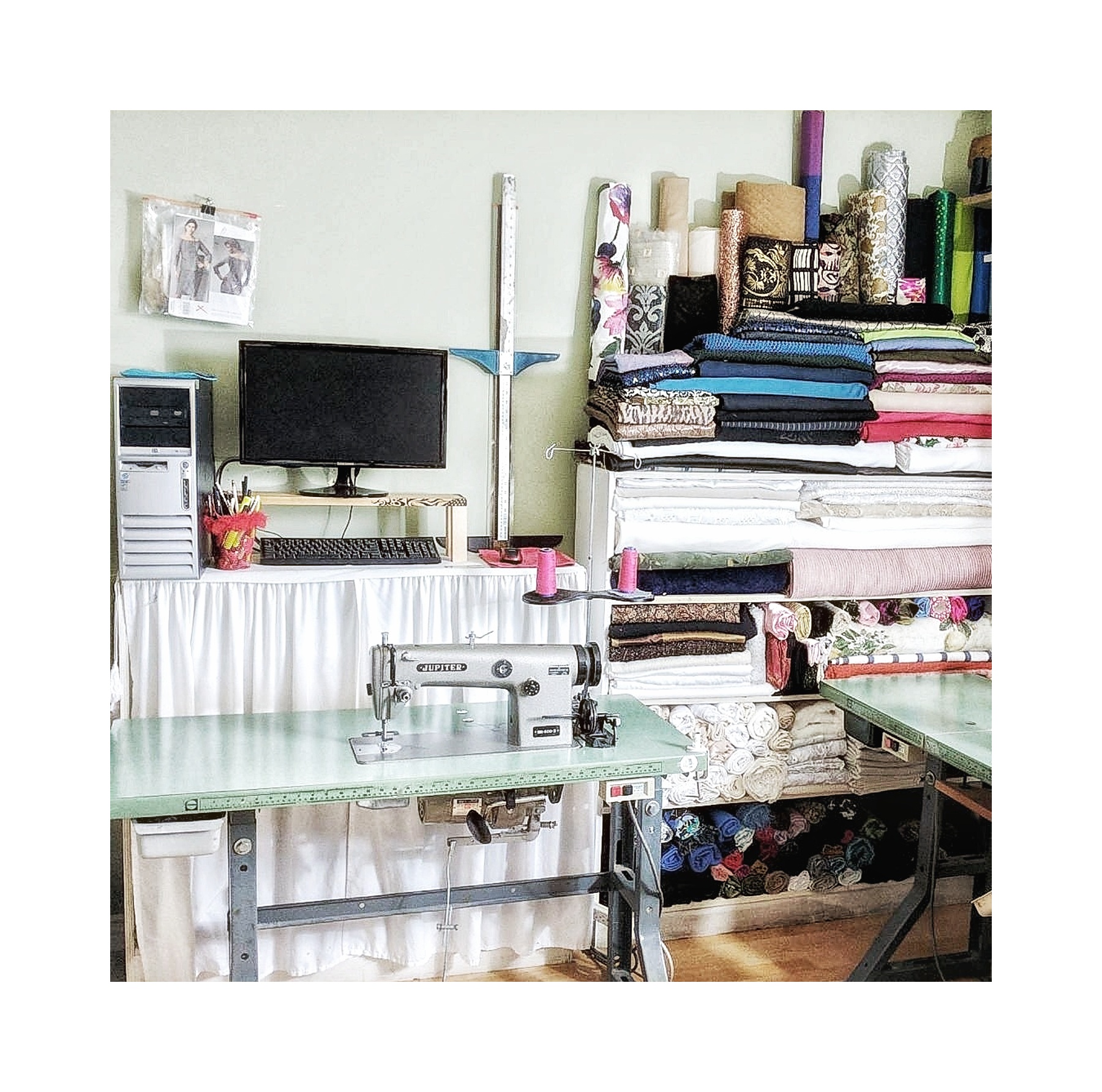 Working With What's Available
Living through the creative process is an important part of my existence. So, through the years, I've learned to appreciate the space that's available.
starting was slow
Motherhood was my main focus, from the time my children were infants, to when they entered adulthood. In their pre-teen and adolescent years, they encouraged me to create a blog. But I didn't know what it meant. And I wasn't sure where to start either. I had spent close to 3 decades centered on raising children. That makes sewing, crafting, baking, cooking, decorating and writing my most current skills.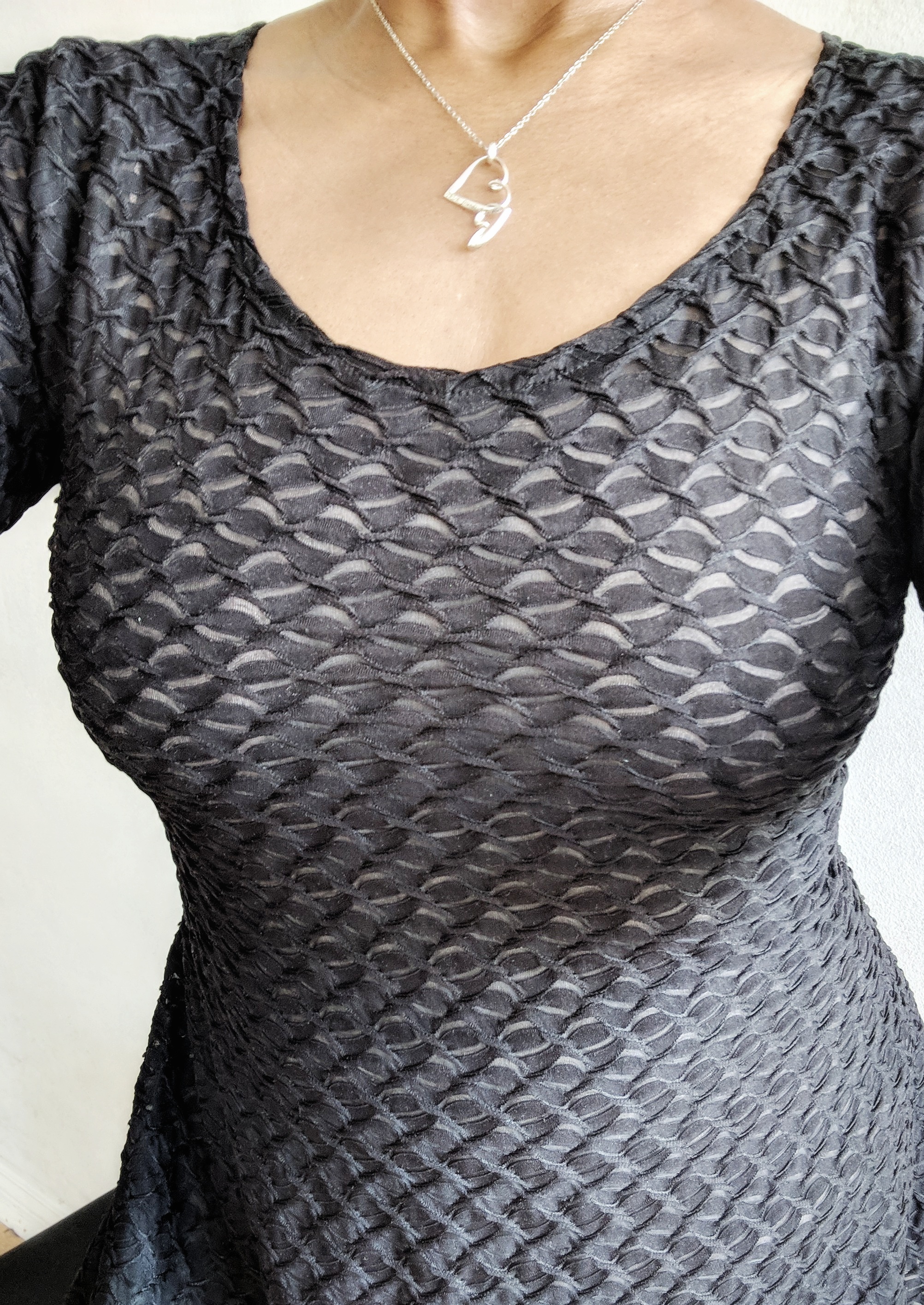 I make this fit and flare top over and over using 60" wide knit fabric and cutting the front on the fold. To achieve a better fit at my curved lower back area, I add a center back seam and sew side seams and undersleeves in one shot. And the same goes for the shoulders and upper sleeves. To continue the quick-mode, I hem the neckline, sleeves, and hemline on the machine. It takes me about a half-hour to complete. Sometimes, it's the only block of time I have to sew something for myself; and I don't mind.
chasing creative ambitions
I've come to terms with the fact that my brain works faster than my hands. My creative ambitions run ahead of me. And I've decided to enjoy the chase.
Sewing Machines power
They are fast and powerful, with noisy motors. At top speed, they sew 6000 stitches per minute. I've had them for more than 2 decades. The industrial sewing machines in the pictures above are the second oldest of four faithful workhorses.
Making samples for reference
A lot of what I do comes right out of my imagination. And since we've established my brain is ahead of my hands, I make samples on the spot to capture my thoughts.
They are not necessarily polished products and I don't take notes. But I pin them to a styrofoam wall and keep them for reference. That's another area of my surroundings covered with craft paraphernalia. My non-documenting system has its limitations though; especially regarding color mixing.
Sometimes, I end up having to start from scratch. The coffee filter flower below left is one of my samples; thankfully, I remember the process.
Making Paper flowers DIY - my roots
When I was a young girl, I saw my mother create gorgeous, colorful paper flowers. She used double-layer crepe paper to make roses. And she separated the layers when she made lightweight flowers. I never learned her techniques. You can say I took it for granted. But over the years, I worked to develop my flower-making skills. Now, she looks at my flowers and she's amazed, they are not crepe paper.
Baking and cooking at home
At home, the kitchen is one of my favorite areas to create. Baking and cooking allow me to give abundantly at lower costs. As well, my imagination inspires lavish presentation. It's another creative outlet.
My desire to bake and cook has its origins in two things, my upbringing and my creative spirit. Both my parents baked, and my father did it at a professional level. But I didn't learn about baking from either of them -I read books.
The desire to learn is a powerful motivator.
I write Poetry Too
Memorizing a poem and reciting it in front of the classroom, was a regular occurrence in my early school years. It was an exciting time for me.
I looked forward to those moments and listened intently to my classmates recite famous poets works. Elizabeth Barrett Browning, Sir William Wordsworth, and Lord Tennyson were some of my favorites.
Whenever it was my turn to do my recitation, I couldn't be happier. The words did something special to me. I saw vivid pictures of what the poets' words conveyed, and I knew someday, I would attempt to write poetry.
Now, depending on the mood, my poems are lengthy. But some are short, playful and meant to make you smile -like the one below.
starting point - means to an end - and more
Through the years, I've learned that a vivid imagination, self-expression, and a creative heart is only the beginning. They are gifts that need nurturing to stay alive. If placed in a dark corner until a convenient time, they will perish. In the same way, we need nourishment, so too, they require regular practice to thrive.
I admit it's challenging, and sometimes it demands sacrifice. But whatever the alternatives, I won't trade my portion for the world.
Thank you so much for taking the time to read. I hope you will stop by again soon.
If the LORD will, see you next time