DIY Ideas For Christmas Decorating (Pretty DIY Projects)
Pretty DIY Projects (Low Cost and High Style)
Christmas decorating has a special kind of magic. Vintage and nostalgic, rustic and charming, luxury and elegance all have a place. So do low cost, budget-friendly, dollar store and DIY on a budget. Whatever your approach, decorate to suit your taste and have fun doing it. Bear in mind, inexpensive does not equal surrendering style. If you have a low budget and a late start, there's opportunity to get in the spirit and create your best holiday decor.
Pretty DIY Christmas Candle Holders
Cultivate ambiance with candles. No lighting compares to candlelight. It appeals to romance, relaxation and indulgence. Even humdrum spaces benefit from its flickering glow. To create unique decorations, incorporate a variety of tapers, tea lights, votives and pillars. Use heat proof containers designed for fluctuating temperatures of lighted candles. Explore methods of how to embellish store-bought ones, or make your own. Arrange displays in front of mirrors and get double the magic. Candles make great gifts anytime of year. Get thrifty; visit craft stores and comb bargain and dollar stores for steals. If your aim is to stretch your dollars, these projects will help you maintain budget. Here are some low cost ideas to light up your Christmas and reflect the festive mood.
easy to make Pretty diy tin can candle holders
Simple painted or unpainted tin cans add height to shorter votive holders. Use them to create levels in your displays. Pine-cones, ribbon and faux berries help create atmosphere.
- Imagination
- Glue gun
- Glue sticks
- Scissors
- Florist's foam
- Sharp knife
- Floral wire
- Pliers
- Dried leaves
- Flowers
- Herbs
- Spices
- Pinecones
- Twigs
- Branches
- Paper
- Ribbon
- String
- Burlap
- Beads
- Ornaments
- Silk flowers and foliage
- Empty Tin Cans
- Latex paint
- Acrylic Paint
- Spray Paint
Choose decorative materials with safety in mind.
Use tin cans to store a range of items. Depending on size, use them to hold tooth brushes, makeup brushes and cutlery. Too, they work as planters, vases and candle holders.
more pretty diy project ideas

Tips for using candles
Trim wicks to ¼ or ½ inch to prevent uneven burning
Place candles on a base to catch dripping wax –away from drapes, bedding, vents, drafts and strong air currents like a fan
Never leave burning candles unattended
Keep candles in a cool dry place; away from sunlight, bright indoor lights and heat sources. Or colors may fade
Lay candles flat to prevent warping
create pretty diy candle holder bases that are also miniature wreaths
Now, get inspired, take screen shots, recap and deck the halls!
pretty diy No-sew cloth Napkins
It's a pleasure to wrap presents and place them under the tree. Furthermore, the delight that comes from watching small children and adults open gifts at Christmastime is priceless. While we can't gift-wrap hospitality, it too, is beyond price. Love, support, and understanding are among the best gifts we can give – any time of year. The holidays offer ample opportunity to gather with friends and family and enjoy each others company.
Serve Up A Little Character
Table setting idea with fringed, unbleached muslin napkin
wow guests with a pretty diy tablescape
As food and drink go hand in hand with the festive season, tables are central. Who doesn't love a tantalizing table setting? Adding fabric napkins is a great way to decorate and enhance your tablescape. I love cloth napkins and my go-to fabric is cotton. It is hard-wearing, absorbent and good value for your money; the perfect combination for an effective napkin. Whatever your entertaining style, it doesn't have to be a costly affair. Use your creativity to come up with beautiful hacks that are low-cost, time-saving and result in great style. While I focused on cotton napkins, there are myriad of choices available.
Brimming With Personality
Here, cotton/poly sari material makes its way to the table
Frugal, Tasteful and Chic no-sew Napkins
Napkins come in standard sizes and are usually squares. Don't allow dimensions or shape to limit you. Experiment and feel free to re-purpose fabrics you have on hand. Make rectangular ones if you need to. Pretty as they come, napkins have a practical purpose and absorbency is more important than shape. One easy and pretty way to finish a napkin is to fringe it – pull out threads at the edges. But if the fabric is a tight weave, it could eat up your time. Alternately, you could get fringe by drawing a line from the edge to your desired fringe length and cut ¼ inch strips through, to the marked line. Use a washable marker. To avoid shrunken napkins, pre-wash your fabrics before starting projects. If you are using poly/cotton blends, cutting edges after washing produces acceptable results. They don't fray much but cotton edges will ravel, curl and fluff every time you wash it. Longer threads can tangle in the wash. Use a stiff brush to release fibers. If your goal is to save time, do what is easiest and pleasing to you.
A cotton square fringed at the edges and tied with a blue paper flower, echoes serenity.
Below: Ideas of how you can add stylish finishing touches to your table setting with budget-friendly no-sew napkins.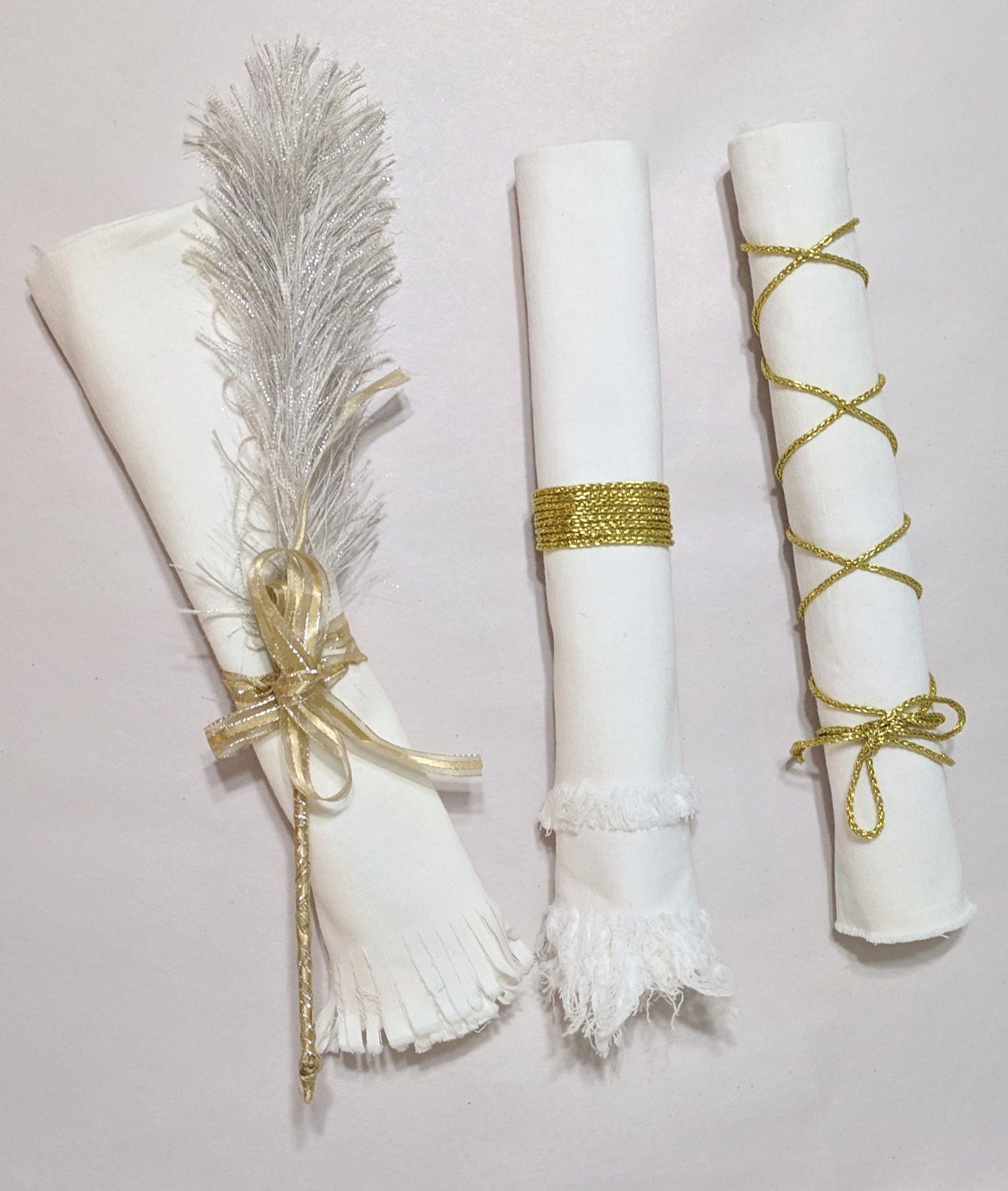 Left: Poly/cotton sheeting snipped at the edges and decorated with a fabric plume and gold ½ inch ribbon. Middle: Pre-washed muslin cut in deep scallops and washed again; decorated with metallic rope from the dollar store. Right: Drapery lining pre-washed and washed again; bound crisscross style with metallic rope.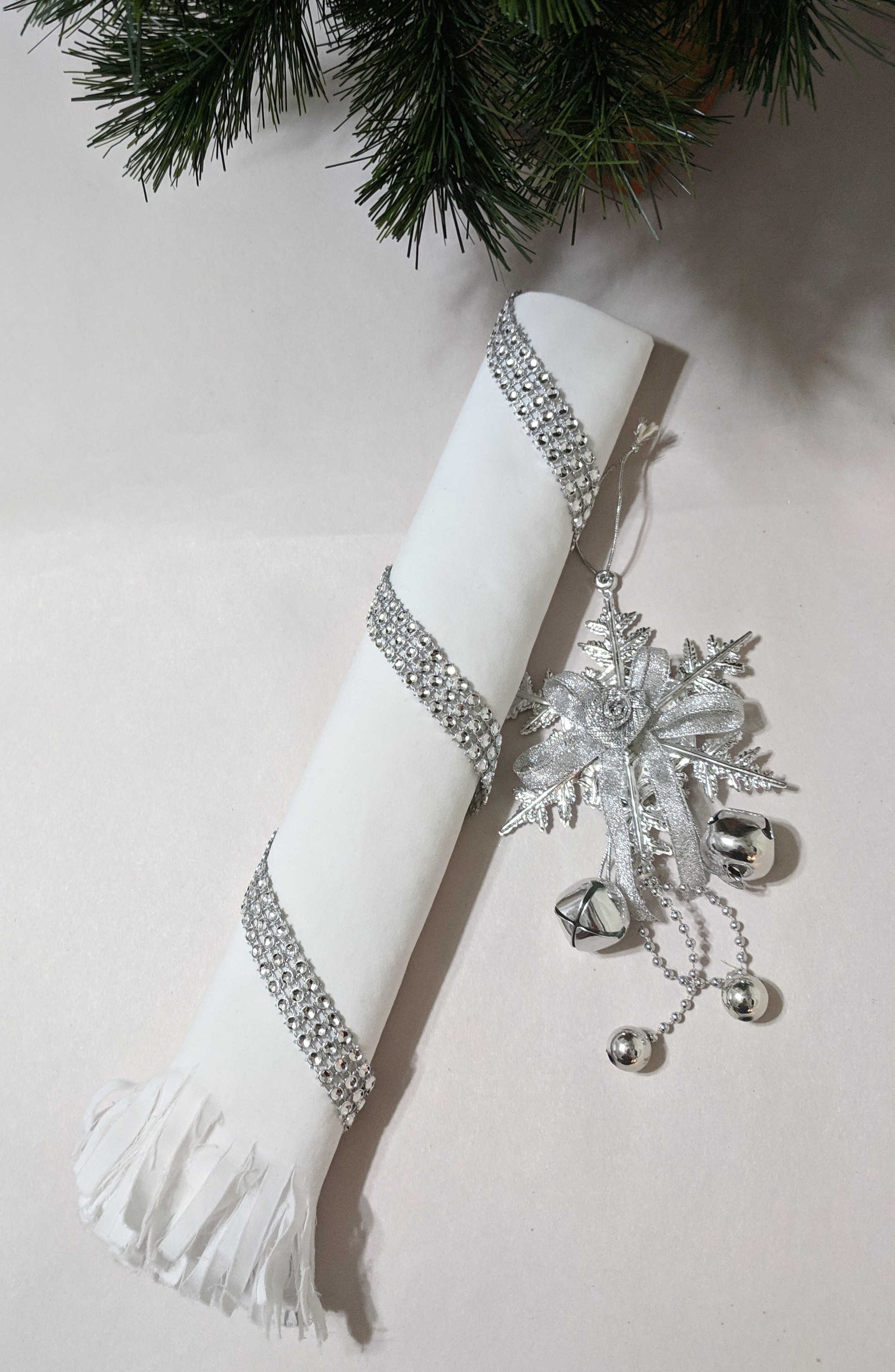 White poly/cotton sheeting fringed and wrapped in a diagonal strip of sequins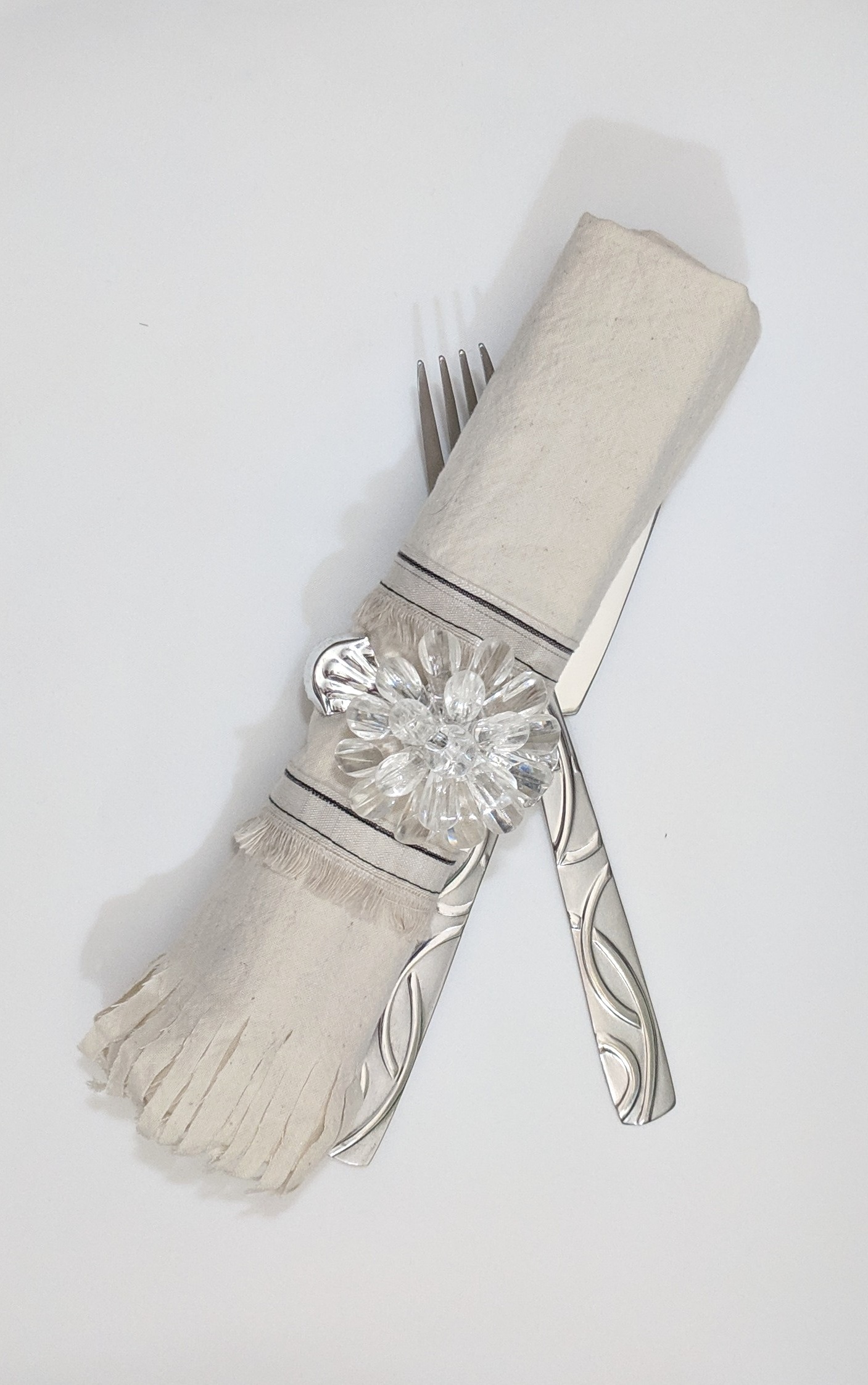 Unbleached muslin with a 1" scissor fringe; decorated with a 2 rows of selvage. Held together with a dollar store curtain tieback
How to make instructions (Image below)
⦁ Cut fabric in desired measurements.
⦁ Fold in half.
⦁ Fold half into quarters, measure and draw a line at edges. Or, omit markings by folding at edges and ironing over to make crease.
⦁ Notch out square at corner of fabric;
⦁ Cut through all 4 layers to the marked line.
Go ahead; imagine, create and turn out your most awesome table settings!
1 Peter 4:9, KJV "Use hospitality one to another"… Welcoming others into our homes is a great way to show them we care.
From our house to yours, have a merry Christmas filled with love, joy and peace.
Lord willing, see you next time.