DIY Clutch Purses
Complete it with a clutch
They come in all shapes and sizes; they are pretty easy to make, and I love them. None of the styles on this page are difficult. It took me about an hour to make some. The white one is made of unbleached muslin fabric and took the longest to make. But that had to do with the DIY fabric fringe process: Pre-washing, fringing, sewing, and washing again.
One-Piece Hidden Zipper DIY Clutch
…no pattern needed; uses one piece of fabric each for exterior panel and lining - 1 hour project
Choose Striking fabric
Above right: It is one of, if not the most, eye-catching bags featured here. That is a direct result of fabric choice. Made from remnants of another project, it demonstrates how working with what's available is a creative energizer. It drives you to prevail over perceived lack.
Unbleached Muslin Fabric Clutch
A perfect summer clutch - Fringe made with muslin that has been snipped with scissors and put in the wash - from the DIY muslin projects collection. Completion time about 5 hours.
Pretty DIY muslin projects
The off white clutch above is 100% unbleached muslin. At its core, it is a basic purse with a fold-over flap. That's usually a short project. What makes the difference here is the decorative fringe. That too is muslin. The fluffy fringe started as narrow strips of muslin. Then, they got snipped with scissors and went through the washer and dryer in a short cycle. See More pretty DIY dish towels (Sew pretty DIY Projects) for details on how to create muslin fringe.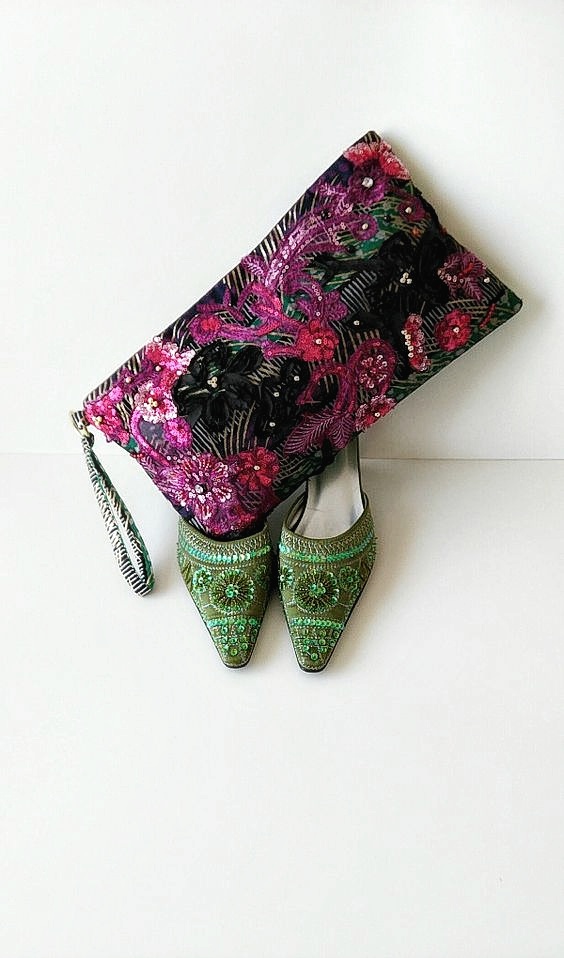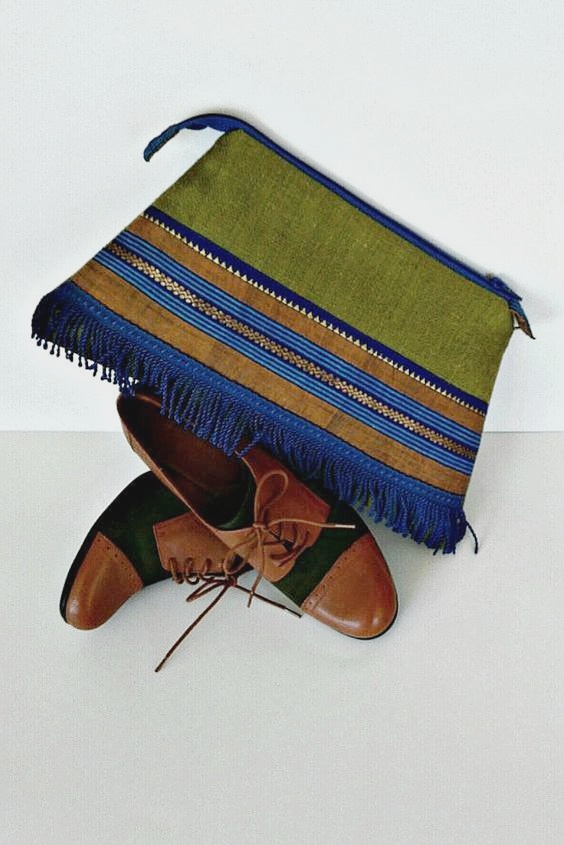 Scrap fabric creations
Above left and center: Both purses are scrap fabric creations.
At left: on the front, I used 3 layers: cotton as a base, fuchsia mesh interlayer and pieces of black mesh as an overlay.
Middle: A piece of green burlap, a scrap of cotton sari fabric, and a remnant of blue fringe completed this one.
At right: A large scale floral print is the foundation of this trapeze clutch. It has a hidden zipper and patch pockets on the inside. With its vibrant flower spreading across the front, it's hard to miss.
…with zipper pocket - Half an hour sewing project
Lined placemat clutch
If there ever was a quick clutch, this is it. The clutch above right started as a lined placemat. That means, there's not a lot of work left to do. The fold-over flap doesn't have a magnetic clasp or any other form of closure. So, I installed a zippered pocket to keep valuables in.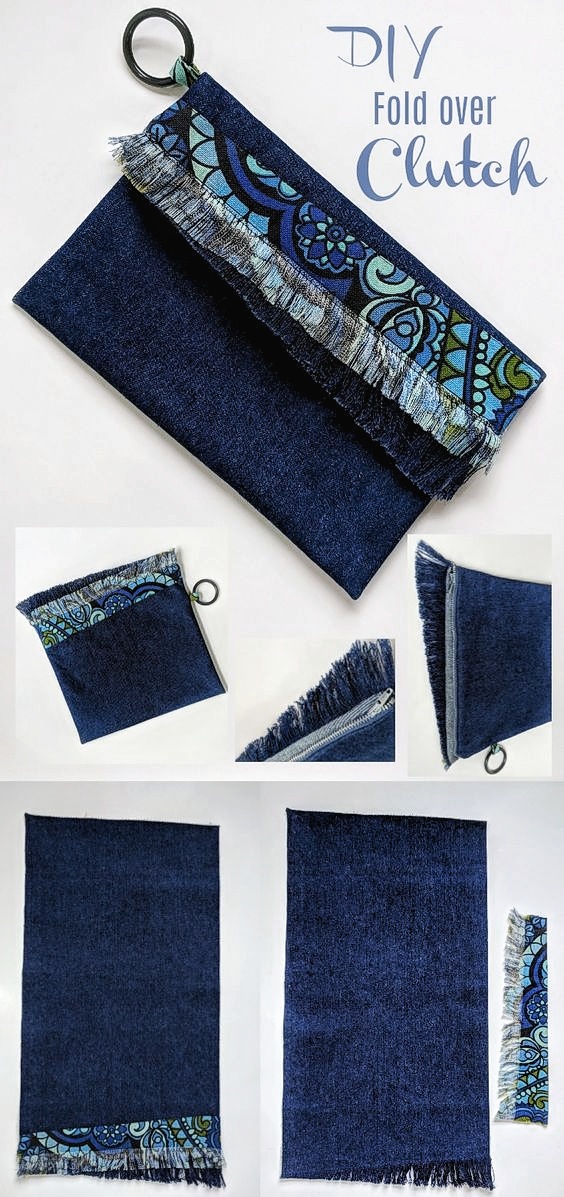 Denim is easy
DENIM IS EASY
Like a pair of jeans, denim delivers. It's easy to sew and hard-wearing. The clutches above at left and right are both made of denim. You can wear them as much as your favorite jeans.
Above middle: A circle placemat turned clutch; has an inside zipper pocket and is trimmed at the top with a strip of sari fabric.
…zippered clutch; made with re-purposed fabric. Project completed in roughly one hour plus.
adding accents
Adding an accent to your DIY clutch is a great way to make it stand out. Above: The black and gold clutch makes a striking statement with its black faux fur trim.
Using repurposed materials
This one is repurposing at its best. A thrifted cotton tablecloth provided the fabric or these paisley print clutches. It was circular with an engineered print. In typical form, I cut out the borders and emblems and fashioned the purses accordingly.
…with a zippered inside pocket - 1/2 hour project.