Coffee Filter Flowers ideas and Inspiration
I have a love affair with coffee filter flowers and the flame continues to burn. Part of it has to with, coffee filter flower craft is an easy DIY activity. Ask kindergarten teachers and preschoolers.
You can use them in a number of ways to create different types of blooms from realistic to fantasy. Choose to make them rolled or folded; with stems or without -in sizes ranging from small to large, huge and giant. One way or the other you can turn out a bunch of elegant coffee filters flowers that you will be proud of.
The images of coffee filter flowers on this page are part of my experiments. What usually happens is, if I don't get the results I want the first time, I add or take away components. When I coloured the pink filters at the very top, I mixed two different paints to achieve the colour. But when they dried, I wasn't too sure how I felt. So, I went over the centres with different shades of pencil crayons and decided I could live with it.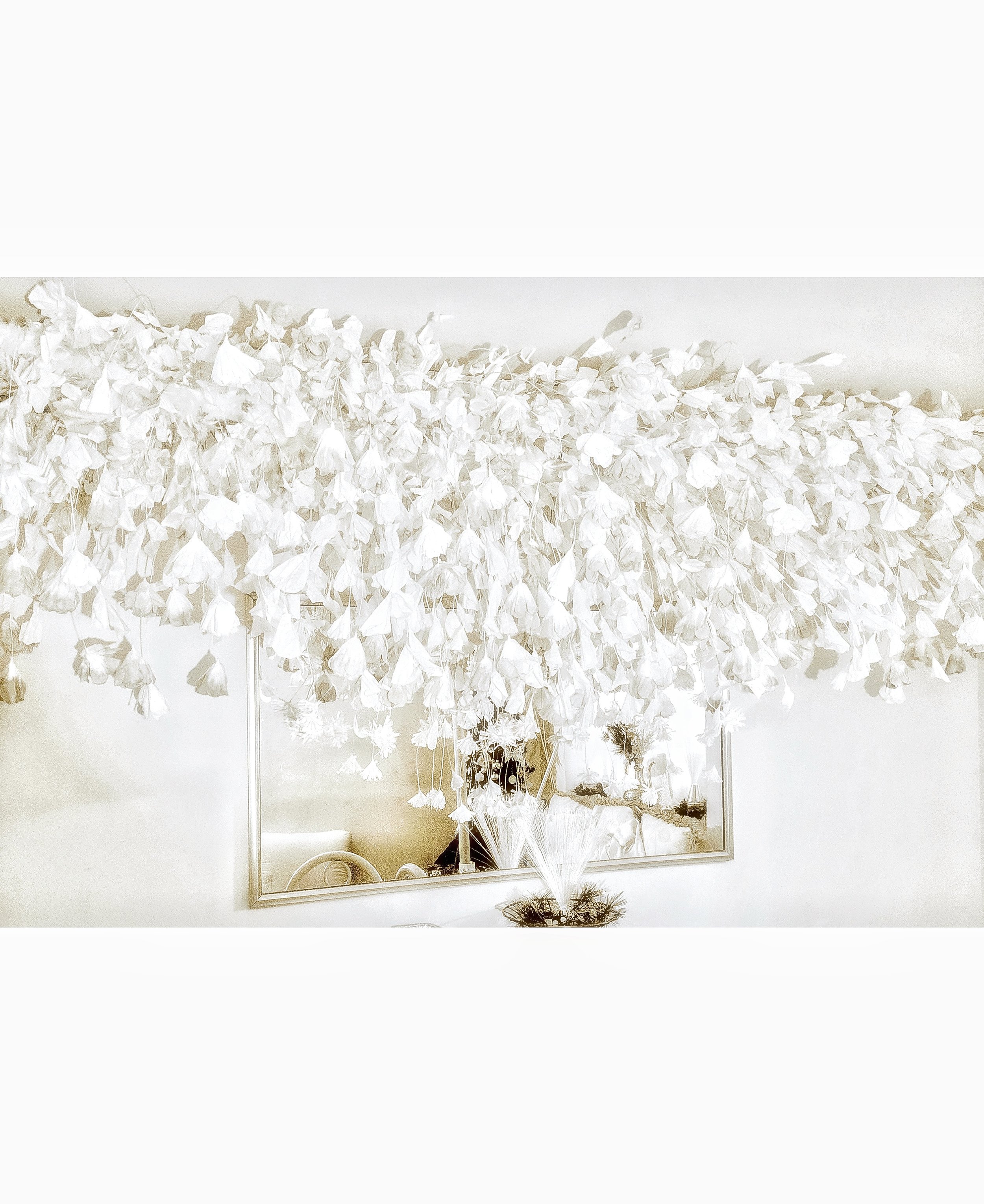 This garland was born out of the need to store hundreds of coffee filter blooms. It's now my go-to garland to top off a plain backdrop.
Things To Make with coffee filter flowers
Backdrops
Bouquets
Flower ball
Garlands
Giant flowers
Shower and party decor
Rolled coffee filter flowers
Coffee filter flowers with stems
Realistic or fantasy blooms
Roses
Wedding decorations
Wedding and other centrepieces
Wreaths
Besides the above mentioned, there are myriad ways to create and display your coffee filter flowers.
Glue to a dry branches to make them blossom
Use toothpicks as stems and decorate cakes of any size
Without stems they make beautiful gift toppers
Decorate plain cardstock to make place cards and gift tags
Glue them to alligator clips for multi-purpose decorative uses
Wrap their wire stems around favor bags to make pretty closures
Use large coffee filters as gift wrap for small gifts
Decorate party hats and gift bags
Secure stems to a wire circle or disc and hang upside down to create a mobile.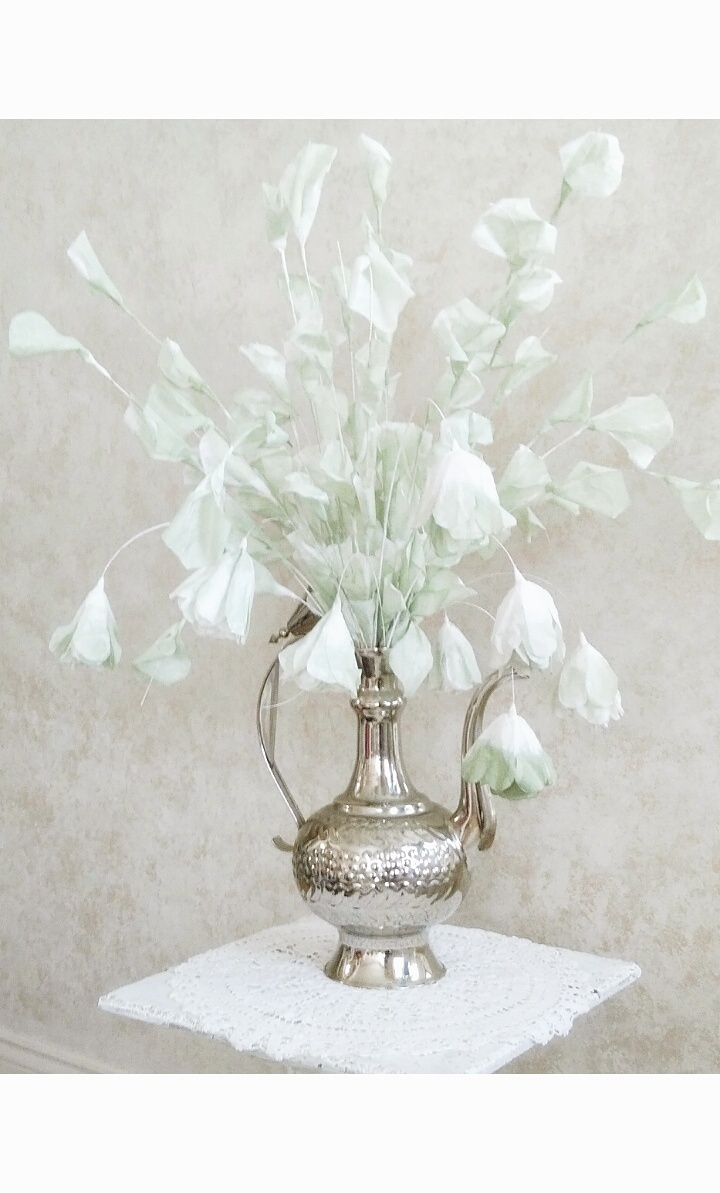 Spouting Coffee Filter Fillers
The fillers are quick and easy to make. Though meant to be fillers. They make quite an eye-catching show on their own.
Ways to colour Coffee filter Flowers
Coffee filter flowers are beautiful with or without colour; and if you decide to colour them, there are several options available:
Coffee stained
Tea stained
Markers
Rit dye or other clothing dye
Food colouring
Water colours
Diluted craft paint
Natural dyes
A different way to colour coffee filters
Dipping coffee filters in a container of diluted paint or other colouring agent is the common method of adding hue or tint but it isn't the only technique. You may also brush or paint on colour. This though, means you'll be painting each filter separately. It might sound tedious but you'll be adding less moisture to the filters, in which case they will dry quicker than saturating them.
To colour filters by the non saturation method, lay them flat; dip a small brush into the colouring mixture; and apply colour to desired areas. Lay on a paper lined surface to dry.
Tools you will need
Coffee Filters
Stems
Floral tape
Centers
Scissors
Glue gun and glue sticks
Wire cutters if your stems are not precut
Coffee filters: I used round filters for all the examples in this post.
Stems: you may use wire or bamboo/wooden skewers. When using skewers, remember they are stationary; unlike wire, they will not bend.
Floral tape: It comes in different shades of green as well as brown and white. Feel free to substitute with crepe paper streamers, low tack masking tape or fabric strips.
Centers: Choose to purchase centers or make your own. I use both options. One of the simplest ways to create a center is to cut a rectangle and use your scissors to fringe one lengthwise end. Then glue the base of the fringe to the top of stem; roll, wrap and glue again.
Dip-dyed Coffee Filter Flowers
These are made without centres. Because they are structured to hang, the centres won't be visible. Too, they are dip-dyed after construction; and the moisture causes them to close.
Coffee filters resilient and time-saving
There a several methods of making flowers with coffee filters. Because they are designed to work as sieves, they are naturally resilient. In addition, the precut discs offer several advantages in making-flowers-saving-time. One super easy way to make a coffee filter flower is to gather enough filters to create a flower, staple them together at center point and fluff them out. Then there's my favourite: fold the filters to the desired petal size and use sharp scissors to cut out petal shapes. When unfolded, you get a layer of connected petals that you can stack curl and manipulate as you desire. Your flower will be slighter smaller than the diameter of your filter. Neither method requires using a template. That though, doesn't rule out tracing preprinted templates or making your own when you need precise cuts.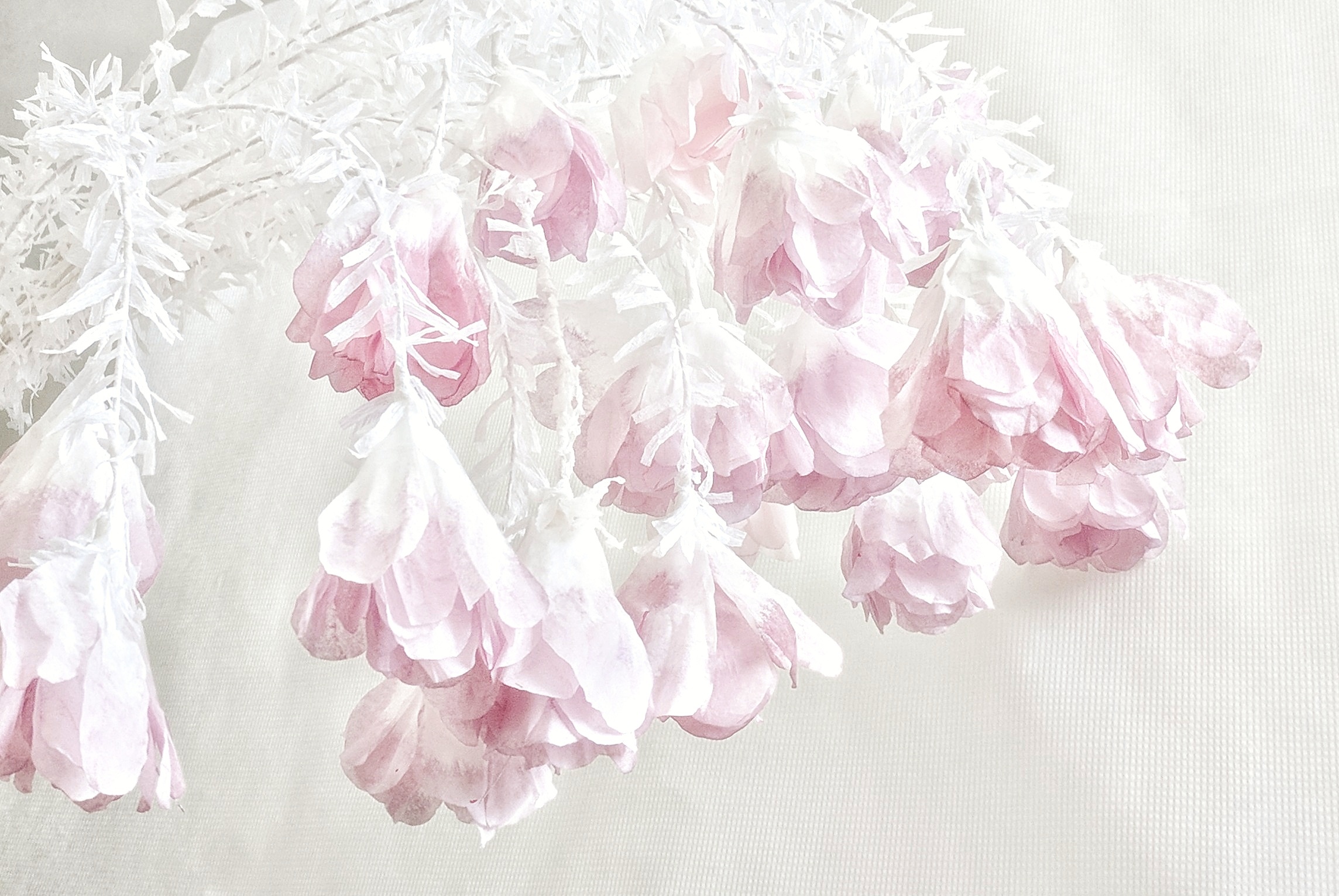 More fillers; only, these have been manually awakened by hand and stems are covered. They are simple and pretty enough to use as wedding decorations or as wedding centrepieces.
Make sizes ranging from small to huge
Regardless of the type of filters you use, you can create flowers ranging from small to giant size–for the giants; you'll need to mount petals on a base. Complete connected discs of petals can also be cut from cone filters but your flowers will be considerably smaller. Either type will survive most mistakes; even if that involves an unplanned new design. Plan or map out how you are going to cut your filters; even if not using templates. That way, you will make the best use of your paper; and you could save the leftovers for other projects.
At right, a test batch of coffee filter flowers placed in a vase to dry. When dip-dyeing, I usually dip a first batch and for each one following, I pour additional water to the mix. It creates different values in the tints and shades.
Use different techniques to achieve form
Coffee filters don't stretch or curl naturally; you have to manipulate them. Do so by gathering the base of petals; curling the top of petals and dampening and squishing the filters. In the case of petals that are connected in disc form, cutting between the sections, affect their form and how they stack on each other–experiment.
At left; a 24" coffee filter flower sprouts a number of hanging blooms.
Where to find Coffee Filter flowers crafts information
If you're looking for additional information and ideas to make your own coffee filter flowers and decorations, obtaining information on how to make them is as easy as doing an online search.Do the following online searches:
DIY Coffee filter flowers
Coffee filter flowers Youtube videos
Don't overlook your local library; there might be a book containing coffee filter flowers Step by step instructions with templates -waiting for you.
You can also find information on coffee filter flowers and a how to make tutorial here.
Hung On Coffee And Dip-dyed
At right: This batch was the first to be dipped; hence their more vibrant colours compared to their above counterparts.
I hope you have gathered some ideas and you are inspired to create. Whatever your mind conjures up, enjoy your coffee filter flowers and decorations.
As always, thank you for stopping by and taking the time to read.
If the LORD will, see you next time.